16' Professional Quad Aerial Rig
16' height. 16' x 19' footprint. 5 feet leg segments for easy construction.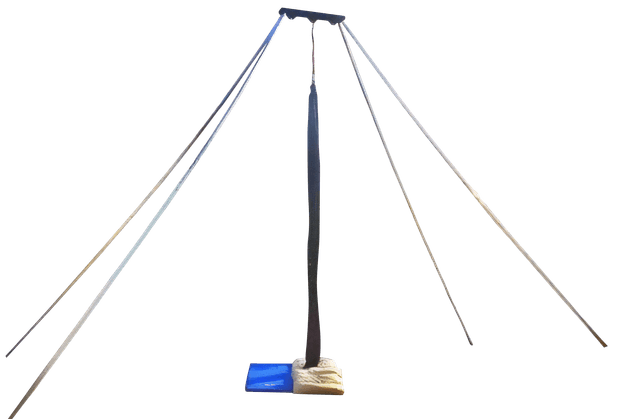 16' Professional Quad Aerial Rig
Product details
For videos and photos check out Instagram: #CoggsCircus

Coggs Circus' 16' Professional Aerial Rig! Our aerial rigs are the tops!

Are you an aerial enthusiast, an aspiring performer, or a professional artist looking to take your skills to new heights? Look no further than Coggs Circus' aerial rig— the ultimate aerial rig for aerialists who demand excellence, safety, and versatility.
Unleash your imagination and soar through the air with confidence, knowing that our aerial rig has been engineered with your needs in mind. Here's why it's the perfect choice for all your aerial endeavors:
1) This aerial rig is a beast, but is super easy to assemble
2) Height can be adjusted to 12' and 16'
3) Double bolted with top quality hardware to adjust for varying levels of land
4) The legs are designed to have some flex while still retaining maximum strength
5) The top bar is a center-weighted design optimal for a variety of situations. The connection points are welded and not bolt-through! We find bolt-through top bars have an extra degree of safety issues.
Elevate your skills, explore new heights, and create breathtaking moments that will leave a lasting impression. Embrace the power of flight with Coggs Circus' aerial rig today!
BASICS:
The base price for our 16' free-standing rig includes the following:
16 x 5' 2" wide aluminum legs with steel inserts (3 steel inserts per leg)
1 steel top bar with four short industrial welded legs that insert into the aluminum legs
All necessary hardware
We highly recommend adding a pulley system! If you plan on changing out/taking in/raising/lowering gear, the pulley system is invaluable— otherwise you will have to use an aerial rig ladder system or take down the rig each time. The pulley system also helps to distribute weight more evenly adding to the already dynamic safety features of the rig. The pulley system comes with 3 50kN self-locking steel carabiners, 2 single pulleys, 1 double pulley, 50' static climbing rope, a cleat for tying off, and bolts. Cleat to be added by the customer to appropriate height. We also offer the addition of feet and durable 2" wide safety straps for indoor use (see photo under "aerial rigs"). The feet come with a D-ring to click to the straps so the legs won't splay outwards on smooth surfaces such as wood. For outdoor use the feet and straps are not mandatory as the rig legs will sink slightly into the ground to prevent any splaying. However, they do add an extra element of safety. If you plan on setting up indoors, we highly recommend adding the feet/straps both to protect the floor and your rig.
Our aluminum legs will not rust. The steel inserts and top bar are painted with heavy duty metal spray paint to protect them, but should be checked periodically and repainted as necessary. Built specifically for outdoor use, but can be used indoors as well— our personal rig stays up all year through four changing seasons.

SPECIFICATIONS:
Leg segments: 6061 aluminum
Inserts/Top Bar: Steel
Bolts/Nuts: Grade 8 (highest tensile strength)
Footprint: 20'x23'
Certification: WLL 500lbs with minimal leg deflection (industry standards are 400lbs)
All rigs are fabricated per order and require a 3 week turnaround time. Sometimes this is less/more depending on the availability of metal.
Aerial Arts are dangerous. Please check equipment before each use. Coggs Circus, LLC cannot be held responsible for injury/death resulting from misuse of equipment.