20' Professional Quad Monster Rig!
20'' height. 20' x 23' footprint. 5 feet leg segments for easy construction.
Shorter heights of 16' and 12' possible.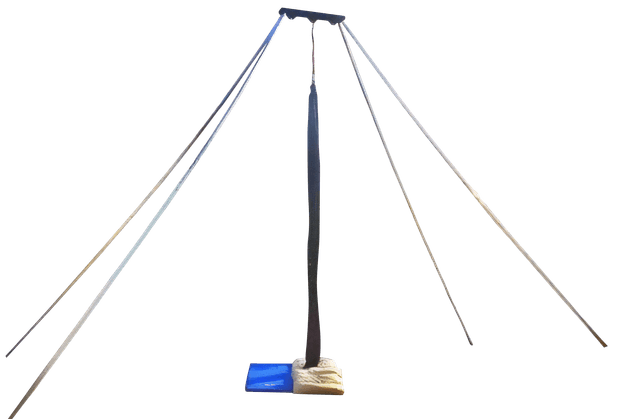 20' Professional Quad Monster Rig!
Product details
Coggs Circus' incredibly strong and well designed 20' rig! This rig is a beast, but it is super easy to assemble. Height can be adjusted to 12', 16', and 20' with double bolted variance for uneven land. The legs are designed to have some flex while still retaining maximum strength. The top bar is a center-weighted design optimal for a variety of situations.
The base price for our free-standing rig includes the following:
20 x 5' 2" thick 6061 aluminum legs with steel inserts (4 steel inserts per leg).
1 steel top bar with four short industrial welded legs that insert into the aluminum legs. Tabs are welded (not bolt through) onto the top bar for extra safety.
The 6061 aluminum will not rust and the steel inserts and top bar are painted with heavy duty metal spray paint to protect them. Built specifically for outdoor use, but can be used indoors as well— our personal rig stays up all year through four changing seasons.
Includes all hardware for easy assembly. All bolts are highest-grade steel for extra safety.
The footprint of the rig is approximately 20' x 23'.
We have met certification beyond the minimum industrial requirements:
400lb static (WLL)
1200lb dynamic
We highly recommend adding a pulley system! If you plan on changing out/taking in/raising/lowering gear, the pulley system is invaluable— otherwise you will have to use an aerial rig ladder system or take down the rig each time. The pulley system also helps to distribute weight more evenly adding to the already dynamic safety features of the rig. The pulley system comes with 3 50kN self-locking steel carabiners, 2 single pulleys, 1 double pulley, 50' static climbing rope, a cleat fortying off, and bolts. Cleat to be added by the customer to appropriate height.We also offer the addition of feet and durable 2" wide safety straps for indoor use (see photo under "aerial rigs"). The feet come with a D-ring to click to the straps so the legs won't splay outwards on smooth surfaces such as wood. Foroutdoor use the feet and straps are not mandatory as the rig legs will sink slightly into the ground to prevent any splaying. However, they do add an extra element of safety.
If you plan on setting up both indoors and outdoors, you will need the feet/straps.
All rigs are fabricated per order and require a month turnaround time. Sometimes this is less/more depending on the availability of metal.
Aerial Arts are dangerous. Please check equipment before each use. Coggs Circus, LLC cannot be held responsible for injury/death resulting from misuse of equipment.